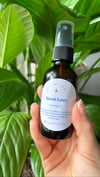 Adorn yourself with sweet magnetic energy. You call in whatever you desire because you are worthy of receiving it. Amplify and attract love within any connection.
✧✧✧✧✧✧
Aura Sprays are a simple way to be intentional throughout your daily life. With powerful herbs and intentions they serve as a tool to help you align your energy with that which you desire to receive.
Ways to use:
-You can spray this on yourself to amplify your Divine Feminine energy.
-You can spray this around a space to sweeten its vibe.
-You can spray this on any item to make it magnetic to your desires.