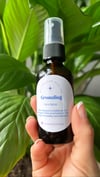 Keep your energy rooted in your power. Harmonize with your confidence, clarity, and stability to feel calm and capable.
✧✧✧✧✧✧
Aura Sprays are a simple way to be intentional throughout your daily life. With powerful herbs and intentions they serve as a tool to help you align your energy with that which you desire to receive.
Ways to use:
-You can spray this on yourself to ground and stabilize your energy.
-You can spray this around a space to cleanse the energy and create a calm environment.
-You can spray this on any item to cleanse its energy.
-You can even spray this around your car, office, or work space to keep the energy calm and peaceful!