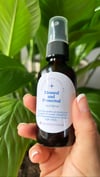 Blessed and Protected Aura Spray
Protect a space or auric field from low vibrations, while also uplifting the energy of the wearer or space. Archangel Michael holy water is included to fight off and protect any bad energies. Overall, this spray will bless, protect, and uplift any area or aura.
✧✧✧✧✧✧
Aura Sprays are a simple way to be intentional throughout your daily life. With powerful herbs and intentions they serve as a tool to help you align your energy with that which you desire to receive.
Ways to use:
-You can spray this on yourself to protect your energy.
-You can spray this around a space to cleanse the energy and protect it from low vibrations.
-You can spray this on any item to cleanse its energy.
-You can even spray this around your car, office, or work space to keep the energy calm and peaceful!